Stefanie was nice enough to buy me the tig welder I had been drooling over. I had a Lincoln Precision Tig 180 amp transformer machine before and I knew there were a few things I wanted to do differently. I was looking for an AC/DC machine but one that was inverter based and had a smaller footprint. The answer- The Primeweld 225. The support you read about online is second to none and under $900 was not bad either. The unit is always backordered but they seem to get units shipped fairly quickly,
It sat on an inverted bucket until my wife fixed my next problem. I had been searching for a cart and never found any I liked. I wanted it to sit on the side of the garage and not take up a big amount of space. So what happened? While moving a piece of furniture inside a marble shelf broke and the wine rack became less useful. I offered to take it and added wheels to it.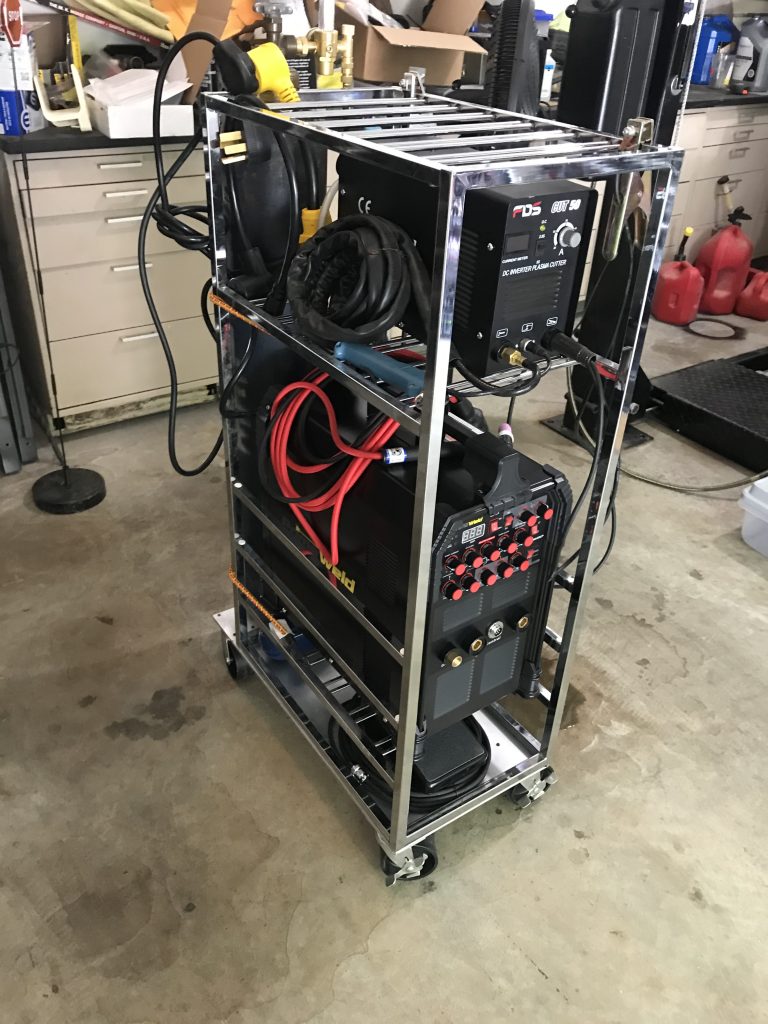 It allowed me to have my plasma cutter on it as well and space to store things. Ultimately it was a great move. I am a big fan of both the cart and the welder. The next project was storing the 5 or 6 different tig rods I had collected. I had some fancy commercial tubes but needed more and was not willing to spend $30 a piece. Following an online video I found the PVC Idea.
Essentially it is a PVC tube cut into a 2 ft and a 1 ft piece. Caps on both end and a coupler in the middle- but only glued on one side. To get maximum style points I used my plotter and cut names for each tube. So far this has been fantastic! I am a fan!